Barometer of Fear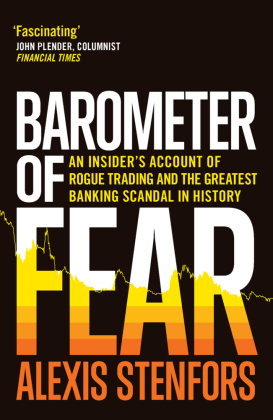 An Insider's Account of Rogue Trading and the Greatest Banking Scandal in History
Kartoniert/Broschiert
Zed Books
, 2017, 252 Seiten, Format: 12,8x20x2,5 cm, Artikeltyp: Englisches Buch, ISBN-10: 1783609281, EAN: 9781783609284, Bestell-Nr: 78360928UA
---
Sie möchten informiert werden, wenn dieser Artikel wieder lieferbar ist? Dann nutzen Sie unseren Info-Service per E-Mail. Sobald dieser oder ein Artikel in der selben Kategorie wieder lieferbar ist, erhalten Sie eine Nachricht.
---
---
Produktbeschreibung
Labelled a 'rogue trader' after a mismarking scandal, Alexis Stenfors reveals the murky truth about banks and how the rigging of LIBOR - described as 'the biggest banking scandal in history' - and the more recent foreign exchange (FX) scandals are just the tip of the iceberg.
Klappentext:
The LIBOR affair has been described as the 'biggest
banking scandal in history', a deception affecting not only banks but also
corporations, pension funds and ordinary people.

But was this just the tip of the iceberg?
Was the scandal the work of a few 'bad apples' or an inevitable result of a
financial system rotten to its core? Labelled 'one of the world's most infamous
rogue traders' in the wake of a mis-marking scandal, Alexis Stenfors went on to
rebuild his life and now guides us through the shadowy world of modern banking,
providing an insider's account of the secret practices - including the manipulation
of foreign exchange rates - which have allowed banks to profit from systematic
deception. Containing remarkable and often shocking insights derived from his
own experiences in the dealing room, as well as his spectacular fall from grace
at Merrill Lynch, Barometer of Fear draws back the curtain to
a realm that for too long has remained hidden from public view.
Inhaltsverzeichnis:

List of Acronyms
Introduction: "It's a misunderstanding"
1. The Barometer of Fear
2. "Why did you do it?"
3. Superheroes and Beauty Pageants
4. The LIBOR Illusion
5. The Value of Secrets
6. Conventions and Conspiracies
7. Rotten Apples
8. The Perfect Storm
Endnotes
Bibliography
Rezension:
'A fascinating insight into the culture of modern banking and the psychology of risk taking on the trading floor.'
John Plender, Financial Times columnist

'A searingly honest account of the activities of traders in the world's global markets, written in an accessible style by a brilliant, but touchingly human trader who found himself at the very vortex of the great financial crisis. Barometer of Fear offers deep insights in to the workings of the machinery that is the global financial system.'
Ann Pettifor, author of The Production of Money and Just Money: How Society Can Break the Despotic Power of Finance

'Stenfors uncovers how unregulated finance operates, or more precisely how traders think. He exposes a system out of control, incapable of self-restraint, nourishing rogue behaviour and ready to burst again at any time.'
Paul Dembinski, Observatoire de la Finance

'[Stenfors] has written a beautifully literate, Jonathan Swift-referencing book about the dark side of the City and in particular Libor, the London interbank offered rate that was once dubbed the "barometer of fear".'
The Times

'The most shocking element of Stenfors's new book is that it confirms that the economic crisis, which was effectively created by the banks, did very little to make the banks address their bad habits.'
Guardian
Alle Artikel in der Kategorie