Veterinary Echocardiography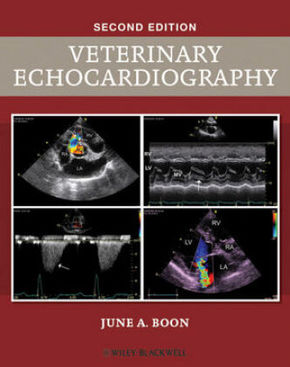 Preis inkl. Mwst. versandkostenfrei
innerhalb von 24 Stunden vorrätig
In den Warenkorb
81382385EA
Gebunden
Wiley & Sons
, 2010, 632 Seiten, Format: 22,8x27,9x3,7 cm, Artikeltyp: Englisches Buch, ISBN-10: 0813823854, EAN: 9780813823850, Bestell-Nr: 81382385EA
---
---
Produktbeschreibung
Veterinary Echocardiography, Second Edition is a fully revised version of the classic reference for ultrasound of the heart, covering two-dimensional, M-mode, and Doppler examinations for both small and large animal domestic species. Written by a leading authority in veterinary echocardiography, the book offers detailed guidelines for obtaining and interpreting diagnostic echocardiograms in domestic species. Now thoroughly updated to address advances in technology, including better transducers, tissue harmonic imaging, better color flow mapping, and color and spectral tissue Doppler imaging, this second edition provides an authoritative, comprehensive resource for echocardiographers of all levels of experience.
The Second Edition has been restructured to be more user-friendly, with chapters on acquired and congenital heart diseases broken down into shorter disease-specific chapters. Key changes include the addition of normal tissue Doppler technique, as well as five new appendices, covering topics such as normal reference ranges and an exam checklist. Veterinary Echocardiography, Second Edition builds on the success of the previous edition to provide complete information on obtaining echocardiograms in veterinary medicine.
Inhaltsverzeichnis:
Preface.
Acknowledgments.
CHAPTER 1 THE PHYSICS OF ULTRASOUND.
BASIC PHYSICS.
TRANSDUCERS AND RESOLUTION.
DOPPLER PHYSICS.
ARTIFACTS.
SUMMARY.
RECOMMENDED READING.
CHAPTER 2 THE TWO-DIMENSIONAL ECHOCARDIOGRAPHIC EXAM.
INTRODUCTION.
PATIENT PREPARATION.
PATIENT POSITIONING.
TRANSDUCER SELECTION.
TWO-DIMENSIONAL IMAGES.
TWO-DIMENSIONAL IMAGING CONTROLS.
REFERENCES.
CHAPTER 3 THE M-MODE AND DOPPLER EXAMINATION.
INTRODUCTION.
M-MODE ECHOCARDIOGRAPHY.
COLOR-FLOW DOPPLER.
SPECTRAL DOPPLER.
TISSUE DOPPLER IMAGING.
REFERENCES.
CHAPTER 4 EVALUATION OF SIZE, FUNCTION, AND HEMODYNAMICS.
MEASUREMENT AND ASSESSMENT OF TWO-DIMENSIONAL IMAGES.
MEASUREMENT AND ASSESSMENT OF M-MODE IMAGES.
MEASUREMENT AND ASSESSMENT OF SPECTRAL DOPPLER FLOW.
MEASUREMENT AND ASSESSMENT OF TISSUE DOPPLER IMAGING.
EVALUATION OF COLOR-FLOW DOPPLER.
EVALUATION OF VENTRICULAR FUNCTION.
HEMODYNAMIC INFORMATION OBTAINED FROM ECHOCARDIOGRAPHIC EXAMS.
REFERENCES.
EXERCISES.
CHAPTER 5 ACQUIRED VALVULAR DISEASE.
MITRAL REGURGITATION.
AORTIC REGURGITATION.
TRICUSPID REGURGITATION.
PULMONARY REGURGITATION.
ENDOCARDITIS.
REFERENCES.
CHAPTER 6 HYPERTENSIVE HEART DISEASE.
PULMONARY HYPERTENSION.
SYSTEMIC HYPERTENSION.
REFERENCES.
CHAPTER 7 MYOCARDIAL DISEASES.
HYPERTROPHIC CARDIOMYOPATHY.
DYNAMIC RIGHT VENTRICULAR OUTFLOW OBSTRUCTION.
MODERATOR BANDS.
DILATED CARDIOMYOPATHY.
RIGHT VENTRICULAR CARDIOMYOPATHY.
RESTRICTIVE CARDIOMYOPATHY.
ENDOCARDIAL FIBROELASTOSIS.
ARRHYTHMOGENIC RIGHT VENTRICULAR CARDIOMYOPATHY.
MYOCARDIAL INFARCTION.
MYOCARDIAL CONTUSIONS.
REFERENCES.
CHAPTER 8 PERICARDIAL DISEASE, EFFUSIONS, AND MASSES.
PERICARDIAL EFFUSION.
NEOPLASIA AS A CAUSE OF PERICARDIAL EFFUSION.
PERICARDIAL DISEASE.
ABCESSES.
PERICARDIAL CYSTS.
THROMBUS.
REFERENCES.
CHAPTER 9 CONGENITAL SHUNTS AND AV VALVE DYSPLASIA.
VENTRICULAR SEPTAL DEFECT.
PATENT DUCTUS ARTERIOSUS.
AORTICOPULMONARY WINDOW.
RIGHT TO LEFT SHUNTING PDA.
ATRIAL SEPTAL DEFECTS.
ENDOCARDIAL CUSHION DEFECTS.
BUBBLE STUDIES.
ATRIOVENTRICULAR VALVE DYSPLASIA.
REFERENCES.
CHAPTER 10 STENOTIC LESIONS.
OUTFLOW OBSTRUCTIONS.
INFLOW OBSTRUCTIONS.
TETRALOGY OF FALLOT.
REFERENCES.
APPENDICES.
Appendix 1: Bovine.
Appendix 2: Canine.
Appendix 3: Equine.
Appendix 4: Feline.
Appendix 5: Miscellaneous Species.
Index.
Alle Artikel in der Kategorie
Themen
Verwandte Themen