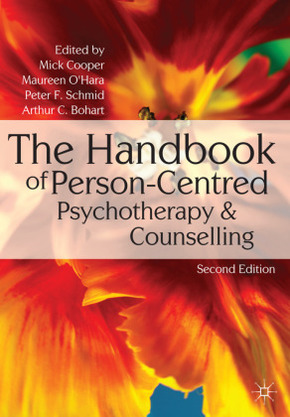 Sie sparen 11%
Preis inkl. Mwst. versandkostenfrei
innerhalb von 24 Stunden vorrätig
In den Warenkorb
23028049EA
The Handbook of Person-Centred Psychotherapy and Counselling
Kartoniert/Broschiert
Macmillan Education
, 2013, 544 Seiten, Format: 24,6 cm, Artikeltyp: Englisches Buch, ISBN-10: 0230280498, EAN: 9780230280496
Bestell-Nr: 23028049EA
---
---
Produktbeschreibung
This new edition of a highly successful text offers a wide-ranging, comprehensive introduction to the key concepts of contemporary person-centred therapy, exploring both theoretical development and their application to practice. Written by leading international experts, it is an indispensable resource for those studying and working in the area.
Klappentext:
Building on the success of the first edition, this substantially revised and extended new edition is set to remain the most in-depth and wide-ranging book available on person-centred psychotherapy and counselling.

The book is thoroughly updated to reflect the latest trends in theory and practice:

- It extends its coverage of professional settings and applications, including brand new chapters on children, older people, arts-based therapies, addiction and bereavement.

- It engages systematically with urgent contemporary issues, such as evidence-based practice, political and medical discourses, and theoretical integration.

- It uses case illustrations, therapist-client dialogues, points of reflection and further resources to bring person-centred therapy to life for the reader, in a user-friendly way.

- It includes contributions by an increasingly extensive group of writers, thinkers, teachers and practitioners.

Inhaltsverzeichnis:
Preface; M.Cooper, M.O'Hara, P.F.Schmid & A.Bohart.- Person-Centred Therapy Today; M.Cooper, M.O'Hara, P.Schmid & A.Bohart.- The Basic Conditions of the Facilitative Therapeutic Relationship; C.Rogers.- PART I: THEORETICAL, HISTORICAL AND PHILOSOPHICAL FOUNDATIONS.- Origins and Unfolding; G.T.Barrett-Lennard.- Family of Person-Centred and Experiential Therapies; P.Sanders.- Ethical and Relational Foundations; P.F.Schmid.- The Actualising Person; A.Bohart.- Experiential.- Phenomenological Foundations; M.Cooper & A.Bohart.- Developmental and Personality Theory; M.Cooper.- Spiritual Dimensions; M.van Kalmthout.- PART II: THERAPEUTIC PRACTICE.- Psychological Contact; G. Wyatt.- Empathy; E.Freire.- Unconditional Positive Regard; J.D.Bozarth.- Congruence; J.Cornelius-White.- Therapeutic Presence; S.Geller.- Working with Groups; P.F.Schmid & M.O'Hara.- Person-Centered Expressive Arts Therapy: Connecting Body, Mind, and Spirit; N.Rogers.- Integration In Person-Centered Psychotherapies; D.Cain.- PART III: WHAT CLIENTS BRING TO THERAPY.- Person-Centered Psychotherapy and Counselling with Children and Young People; M.Behr, D.Hölldampf & S.McGinnis.- Couples and Families; C.J.O'Leary & M.B.Johns.- Older Adults; A.Washburn & S.Humboldt.- Grief and Bereavement; D.Larson.- Clients with Contact-Impaired Functioning; D.Van Werde & G.Prouty.- Working with Difficult and Fragile Process; L.Carrick & S.Joseph.- A Person-Centred Approach to Addiction Treatment; J.Roland Fleck.- PART IV: PROFESSIONAL ISSUES.- Setting up Practice and the Therapeutic Framework; R.Worsley.- Assessment and Formulation; E.Gillon.- Ethics in Practice in Person-Centered Therapy; G.Proctor & S.Keys.- Counselling Across Difference and Diversity; C.Lago & T.Hirai.- Supervision; E.Lambers.- Research; R.Elliott.- Social Change and Cultural Leadership; M.O'Hara.- Resources; R.J.Takens.

Alle Artikel in der Kategorie
Themen
Verwandte Themen