PR Today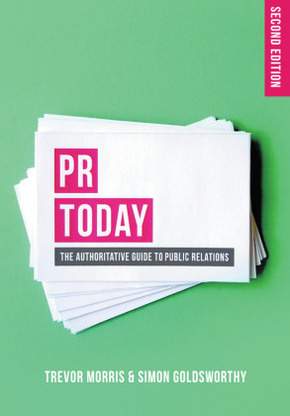 The Authoritative Guide to Public Relations
Kartoniert/Broschiert
Macmillan Education
, 2015, 320 Seiten, Format: 17,8x23,4x1,6 cm, Artikeltyp: Englisches Buch, ISBN-10: 1137495685, EAN: 9781137495686, Bestell-Nr: 13749568UA
---
Sie möchten informiert werden, wenn dieser Artikel wieder lieferbar ist? Dann nutzen Sie unseren Info-Service per E-Mail. Sobald dieser oder ein Artikel in der selben Kategorie wieder lieferbar ist, erhalten Sie eine Nachricht.
---
---
Produktbeschreibung
A comprehensive textbook from an established and high profile author team, which offers full coverage of PR theory and strategies, whilst also giving practical guidance for anyone in a PR role. New edition includes extended coverage of digital marketing, a stronger theoretical grounding and updated international case studies throughout.
Klappentext:
This new and fully-updated second edition of this acclaimed textbook offers a guide to public relations, spanning all aspects of PR work, including fashion, event management, crisis communications, politics, celebrity PR and corporate communications, and takes account of the rapid change in the PR industry. It It combines essential practical guidance with a thought-provoking analysis of this exciting but enigmatic industry, its ethical dilemmas and the role it plays in the contemporary world-not least its controversial but crucial relationship with the media.
PR Today offers a fresh, lively and realistic perspective on its subject, based on the authors' rare combination of international top-level experience, insider knowledge and years of teaching and writing about PR. It will be invaluable for students taking public relations at undergraduate and postgraduate levels and essential reading for those seeking to start a career in this dynamic, fast-growing profession.
Inhaltsverzeichnis:
PART I: THEORY AND ANALYSIS.- 1. Understanding Public Relations.- 2. PR Ethics.- 3. The Make-Up of the PR Industry.- 4. PR, Marketing and Advertising.- 5. Internal Communications.- 6. Lobbying, Political and Government PR.- 7. PR in the Online World.- 8. Corporate Social Responsibility.- 9. PR and the Law.- PART II: PLANNING AND STRATEGY.- 10. POSTAR: Positioning, Objectives, Strategy, Tactics, Administration, Results.- PART III: PRACTICE.- 11. Presenting, Pitching and Public Speaking.- 12. PR Media Skills.- 13. Event Management.- 14. Crisis Management.- PART IV: CONCLUSION.- 15. Public Relations: Into the Future.
Rezension:
'If you read just one book on PR, read this. In an industry full of self-important bogus theory and pretension, Morris and Goldsworthy tell it how it really is. Worth more than any number of lectures. Buy it.' - Francis Ingham, Director General , Public Relations Consultants Association and Chief Executive, International Communications Consultancy Organisation.

'PR Today comes out with all guns blazing...this is the best PR textbook of the year. It is an excellent read and will be core reading for most of my modules.' - Philip Young, Mediations/University of Sunderland

'PR Today is the most concise handbook on current PR industry, equipping those entering the PR world with a `survival toolbox`. It is an eye opener for anybody curious about PR.' - Beata Kviatek, Hanze University of Applied Sciences, the Netherlands

'Now updated, this book remains an indispensable guide for PR students, teachers and practitioners.' - Trish Evans, University of Westminster, UK

'I have used PR Today in my teaching since it was published and have found it an irreplaceable source. It is well structured, systematic and profound, but also easily accessible to students new to the field. The references to popular culture are particularly helpful in engaging students and encouraging a critical discussion and reflection, as are the practical examples and exercises; yet the strength of this book is that it manages to combine all this with thorough research and scholarship on the topic. The interviews included in this new edition are a valuable addition to an already excellent book.' - Sylvie Magerstädt, University of Hertfordshire, UK
Alle Artikel in der Kategorie
Themen