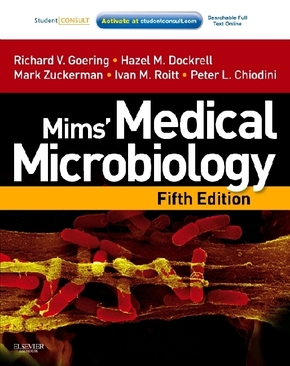 Sie sparen 7%
Preis inkl. Mwst. versandkostenfrei
nicht lieferbar
Mims' Medical Microbiology
With STUDENT CONSULT Online Access
Kartoniert/Broschiert
Saunders
, 2012, 580 Seiten, Format: 27,6 cm, Artikeltyp: Englisches Buch, ISBN-10: 0723436010, EAN: 9780723436010
Bestell-Nr: 72343601EA
---
Sie möchten informiert werden, wenn dieser Artikel wieder lieferbar ist?
Dann nutzen Sie unseren Info-Service per E-Mail oder RSS-Feed. Sobald dieser oder ein Artikel in der selben Kategorie wieder lieferbar ist, erhalten Sie eine Nachricht.
---
---
Produktbeschreibung
Mims\' Microbiology makes it easy for you to learn the microbiology and basic immunology concepts you need to know for your courses and USMLE. Using a clinically relevant, systems-based approach, this popular medical textbook accessibly explains the microbiology of the agents that cause diseases and the diseases that affect individual organ systems. With lavish illustrations and straightforward, accessible explanations, Mims\' Microbiology makes this complex subject simple to understand and remember.

Inhaltsverzeichnis:
Preface v

Acknowledgements vi

Contributors vi

Student Consultants vii

A contemporary approach to microbiology xi

Microbes and parasites xi

The context for contemporary medical

microbiology xi

Microbiology past, present and future xii

The approach adopted in this book xiv

SECTION 1 THE ADVERSARIES - MICROBES

1. Microbes as parasites 3

The varieties of microbes 3

Living inside or outside cells 4

Systems of classification 5

2. The bacteria 7

Structure 7

Nutrition 9

Growth and division 10

Gene expression 11

Survival under adverse conditions 16

Mobile genetic elements 16

Mutation and gene transfer 20

The genomics of medically important bacteria 23

3. The viruses 27

Infection of host cells 27

Replication 29

Outcome of viral infection 31

Major groups of viruses 33

4. The fungi 37

Major groups of disease-causing fungi 37

5. The protozoa 41

6. The helminths and arthropods 43

The helminths 43

The arthropods 46

7. Prions 49\'Rogue protein\' pathogenesis 49

Development, transmission and diagnosis

of prion diseases 50

Prevention and treatment of prion diseases 51

8. The host-parasite relationship 53

The normal flora 53

Symbiotic associations 56

The characteristics of parasitism 58

The evolution of parasitism 59

SECTION 2 THE ADVERSARIES-HOST DEFENCES

9. The innate defences of the body 67

Defence against entry into the body 67

Defences once the microorganism

penetrates the body 68

10. Adaptive responses provide a \'quantum leap\'in effective defence 83

The role of antibodies 83

The role of T lymphocytes 86

Extracellular attack on large infectious agents 89

Local defences at mucosal surfaces 90

11. The cellular basis of adaptive immune

responses 95

B- and T-cell receptors 98

Clonal expansion of lymphocytes 98

The role of memory cells 99

Stimulation of lymphocytes 101

Cytokines 102

Regulatory mechanisms 105

Tolerance mechanisms 106

SECTION 3 THE CONFLICTS

12. Background to the infectious diseases 111

Host-parasite relationships 111

Causes of infectious diseases 115

The biologic response gradient 117

13. Entry, exit and transmission 119

Sites of entry 119

Exit and transmission 125

Types of transmission between humans 127

Transmission from animals 132

14. Immune defences in action 137

Complement 137

Acute phase proteins and pattern

recognition receptors 137

Fever 139

Natural killer cells 139

Phagocytosis 139

Cytokines 142

Antibody-mediated immunity 144

Cell-mediated immunity 146

Recovery from infection 149

15. Spread and replication 153

Features of surface and systemic infections 154

Mechanisms of spread through the body 155

Genetic determinants of spread and replication 158

Other factors affecting spread and replication 159

16. Parasite survival strategies and persistent

infections 163

Parasite survival strategies 164

Antigenic variation 169

Immunosuppression 170

Persistent infections 173

17. Pathologic consequences of infection 179

Pathology caused directly by microorganism 179

Diarrhea 183

Pathologic activation of natural

immune mechanisms 183

Pathologic consequences of the

immune response 187

Skin rashes 191

Viruses and cancer 192

SECTION 4 CLINICAL MANIFESTATION AND

DIAGNOSIS OF INFECTIONS BY BODY SYSTEM

Introduction to Section 4: The clinical

manifestations of infection 197

18. Upper respiratory tract infections 199

Rhinitis 199Pharyngitis and tonsillitis 200

Parotitis 208

Otitis and sinusitis 209

Acute epiglottitis 210

Oral cavity infections 210

19. Lower respiratory tract infections 213

Laryngitis and tracheitis 213

Diphtheria 213

Whooping cough 214

Acute bronchitis 215

Acute exacerbations of chronic bronchitis 216

Bronchiolitis 216

Respiratory syncytial virus infection 216

Hantavi
Alle Artikel in der Kategorie
Themen