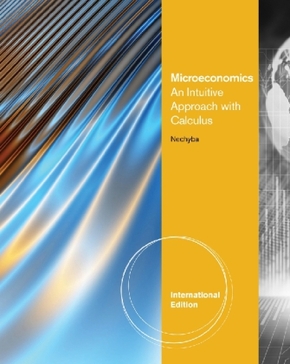 Preis inkl. Mwst. versandkostenfrei
innerhalb von 24 Stunden vorrätig
In den Warenkorb
53875082EA
Microeconomics with Calculus, International Edition (with LiveGraphs Printed Access Card)
Kartoniert/Broschiert
Cengage Learning EMEA
, 2011, 600 Seiten, Artikeltyp: Englisches Buch, ISBN-10: 0538750820, EAN: 9780538750820
Bestell-Nr: 53875082EA
---
---
Produktbeschreibung
Is it more efficient to rent a car or take taxis while on vacation? How do coupons change demand? MICROECONOMICS: AN INTUITIVE APPROACH WITH CALCULUS, International Edition explains the economic theory underlying day-to-day choices. The A sections of each chapter introduce concepts using intuition, a conversational writing style, everyday examples, and graphs. The B sections cover the same concepts with accessible mathematical analyses. Each copy includes access to online LiveGraphs - a suite of interactive, animated graphs that allows you to view dimensional graphs and functions illustrated in the book, as well as some additional graphs that are not in the printed text.
Inhaltsverzeichnis:
1. Introduction.
Part I: CONSUMERS, WORKERS AND SAVERS/BORROWERS.
2. Choice Sets and Budget Constraints.
3. Choice Sets in Labor and Financial Markets.
4. Tastes and Indifference Curves.
5. Different Types of Tastes.
6. Doing the Best We Can.
7. Income and Substitution Effects in Consumer Goods Markets.
8. Wealth and Substitution Effects in Labor and Financial Markets.
9. Demand for Goods and Supply of Labor and Capital.
10. Consumer Surplus and Dead Weight Loss.
Part II: PRODUCERS (OR FIRMS).
11. Single Input Production.
12. Production with Multiple Inputs.
13. Production Decisions in the Short and Long Run.
Part III: PRICES, MARKETS, AND THE FUNDAMENTAL WELFARE THEOREMS.
14. Competitive Market Equilibrium.
15. The Invisible Hand and Market Equilibrium.
16. General Equilibrium.
17. Risk and Uncertainty.
Part IV: DISTORTIONS OF THE INVISIBLE HAND IN COMPETITIVE MARKETS.
18. Elasticities, Price Distorting Policies and Non-Price Rationing.
19. Taxes and Subsidies.
20. Interference with Trading Across Time and Space.
21. Production and Consumption Externalities.
22. Asymmetric Information (Insurance Markets, Discrimination).
Part V: DISTORTIONS OF THE INVISIBLE HAND FROM NON-COMPETITIVE MARKETS.
23. An Introduction to Game Theory.
24. Market Power: Monopoly and Monopsony.
25. Innovation and Monopolistic Competition.
26. Oligopoly.
27. Public Goods.
Part VI: MAKING THE WORLD A BETTER PLACE.
28. Governments and Politics.
29. What is Good?
30. Balancing Government, Civil Society and Markets.
Alle Artikel in der Kategorie
Themen
Verwandte Themen