Integrated Neuroscience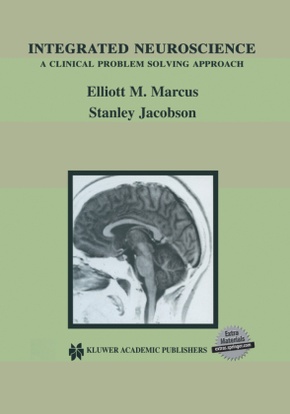 Preis inkl. Mwst. versandkostenfrei
innerhalb von 24 Stunden vorrätig
In den Warenkorb
46135383UA
A Clinical Problem Solving Approach
Kartoniert/Broschiert
Springer, Berlin
, 2012, 739 Seiten, Format: 17,8x25,4x3,9 cm, Artikeltyp: Englisches Buch, ISBN-10: 1461353831, EAN: 9781461353836, Bestell-Nr: 46135383UA
---
---
Produktbeschreibung
This textbook takes as a premise that, in order to make intelligent diagnosis and provide a rational treatment in disorders of the nervous system, it is necessary to develop the capacity to answer the basic questions of clinical neurology:
(1) Where is the disease process located? (2) What is the nature of the disease process?
The purpose of this textbook is to enable the medical student to acquire the basic information of the neurosciences and neurology and most importantly the ability to apply that information to the solution of clinical problems. The authors also suggest that hospital trips be a part of any Clinical Neurosciences Course so that the student can put into actual practice what he has learned in the classroom.
We believe that this textbook will be of value to the student throughout the four years of the medical school curriculum. Medical, psychiatry and neurology residents may also find this text of value as an introduction or review.
Inhaltsverzeichnis:
Preface. Dedication. Section I: Introduction to Basic Neurobiology. 1. Overview of the nervous system. 2. Overview of localization of function and neurological diagnosis. 3. Neurocytology. 4. Neuroembryology. 5. Basic Physiology. Section II: Regional Approach to Neuroanatomy and Localization. 6. Skeletal Muscle and Nerve-Muscle Junction. 7. Spinal Cord: Structure and Physiology. 8. Disease of Peripheral Nerve and Nerve Root. 9. Clinical Considerations of the Spinal Cord. 10. Case History Problem Solving Part I: Spinal Cord, Nerve Root. 11. Functional Anatomy of the Brain Stem. 12. Cranial Nerves. 13. Brain Stem: Clinical Considerations. 14. Case History Problem Solving Part II: Brain Stem and Cranial Nerves. 15. Diencephlaon. Section III: Major Systems. 16. Hypothalamus, Neuroendocrine and Autonomic systems. 17. Cerebral cortex, Cytoarchitecture, Functional localization. 18. Motor System I: Reflex Activity and Cortical Motor Function. 19. Motor System II: Basal Ganglia and Movement Disorders. 20. Motor System III: Cerebellum and Movement. 21. Somatosensory Function and the Parietal Lobe. 22. Limbic System. 23. Visual system. 24. Speech, Language, Cerebral Dominance and the Aphasias. 25. Case History Problem Solving III: Cortical Localization. 26. Disease of the Cerebral Hemispheres: I: Vascular Syndromes. 27. Disease of the Cerebral Hemispheres: II: Non Vascular. 28. Case History Problem Solving IV: Cerebral Hemispheres. Section IV: Complex Functions. 29. Alterations in Consciousness: Seizures, Coma, and Sleep. 30. Learning, Memory, Amnesia, Dementias. 31. Case History Problem Solving: V: Part I General Histories. 31A. Case History Problem Solving V: Part II General Case Histories. Table of Contents: CD. Atlas PDF Format. Cases in Long Format: PDF Format. Cranial Nerve: Illustrations in PDF Format. Special Senses. Pathways in the CNS PDF Format. Supplemental. Index.
Alle Artikel in der Kategorie