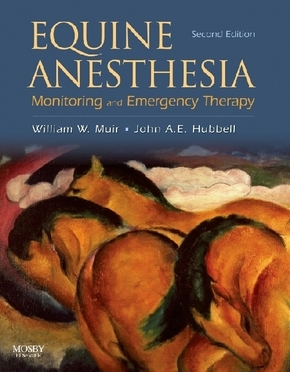 Sie sparen 7%
Preis inkl. Mwst. versandkostenfrei
nicht lieferbar
Equine Anesthesia
Monitoring and Emergency Therapy
Gebunden
Saunders
, 2008, 504 Seiten, Format: 27,6 cm, Artikeltyp: Englisches Buch, ISBN-10: 1416023267, EAN: 9781416023265
Bestell-Nr: 41602326UA
---
Sie möchten informiert werden, wenn dieser Artikel wieder lieferbar ist?
Dann nutzen Sie unseren Info-Service per E-Mail oder RSS-Feed. Sobald dieser oder ein Artikel in der selben Kategorie wieder lieferbar ist, erhalten Sie eine Nachricht.
---
---
Produktbeschreibung
All veterinary team members involved in the everyday care of horses that require anesthesia or special emergency care will benefit from this reliable and inclusive resource. This text provides all of the information needed to prepare, conduct, and monitor the administration of drugs in order to produce safe and effective anesthesia, treat pain, respond to adverse effects, and perform and monitor emergency and critical care treatment. It is the most comprehensive and detailed book available on these subjects, addressing the needs and concerns of practitioners in both hospital and field settings.
Inhaltsverzeichnis:
Chapter 1: History of Equine Anesthesia

William W. Muir III

John A.E. Hubbell

Chapter 2: The Respiratory System

N. Edward Robinson

Chapter 3: The Cardiovascular System

Colin C. Schwarzwald

John D. Bonagura

William W. Muir III

Chapter 4: Stress Associated with Anesthesia and Surgery

Ann E. Wagner

Chapter 5: Physical Restraint

James T. Robertson

William W. Muir III

Chapter 6: Preoperative Evaluation: General Considerations

James T. Robertson

Claire Scicluna

Chapter 7: Venous and Arterial Catheterization and Fluid Therapy

Joanne Hardy

Chapter 8: Monitoring Anesthesia

John A.E. Hubbell

William W. Muir III

Chapter 9: Principles of Drug Disposition and Drug Interaction in Horses

Richard A. Sams

William W. Muir III

Chapter 10: Anxiolytics, Nonopioid Sedative-Analgesics, and Opioid Analgesics

William W. Muir III

Chapter 11: Local Anesthetic Drugs and Techniques

William W. Muir III

Roman T. Skarda

Chapter 12: Intravenous Anesthetic Drugs and Anesthetic Techniques

William W. Muir III

Chapter 13: Intravenous Anesthetic and Analgesic Adjuncts to Inhalation Anesthesia

Kazuto Yamashita

William W. Muir III

Chapter 14: Tracheal and Nasal Intubation

Richard M. Bednarski

Chapter 15: Inhalation Anesthetics and Gases

Eugene P. Steffey

Chapter 16: Anesthetic Equipment

Richard M. Bednarski

Chapter 17: Oxygen Supplementation and Ventilatory Support

Carolyn L. Kerr

Wayne N. McDonell

Chapter 18: Anesthesia and Analgesia for Donkeys and Mules

Nora S. Matthews

Chapter 19: Peripheral Muscle Relaxants

John A.E. Hubbell

William W. Muir III

Chapter 20: Perioperative Pain Management

Phillip Lerche

William W. Muir III

Chapter 21: Considerations for Induction, Maintenance, and Recovery from Anesthesia

John A.E. Hubbell

William W. Muir III

Chapter 22: Anesthetic Associated Complications

William W. Muir III

John A.E. Hubbell

Chapter 23: Cardiopulmonary Resuscitation

William W. Muir III

John A.E. Hubbell

Chapter 24: Anesthetic Protocols and Techniques for Specific Procedures

John A.E. Hubbell

William W. Muir III

Chapter 25: Anesthetic Risk and Euthanasia

Lori A Bidwell

John A.E. Hubbell

William W. Muir III

Appendices

Respiratory Abbreviations Used in the Book

Drug Schedules

Equine Recovery Sheet

Pain Management Plan

Anesthesia Equipment Companies
Alle Artikel in der Kategorie
Themen