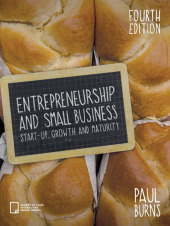 Sie sparen 14%
Preis inkl. Mwst. versandkostenfrei
innerhalb von 24 Stunden vorrätig
In den Warenkorb
13743035UA
Entrepreneurship and Small Business
Start-up, Growth and Maturity
Kartoniert/Broschiert
Macmillan Education
, 2016, 584 Seiten, Format: 27,6 cm, Artikeltyp: Englisches Buch, ISBN-10: 1137430354, EAN: 9781137430359
Bestell-Nr: 13743035UA
---
---
Produktbeschreibung
Thoroughly updated with new video feature and expanded range of global case studies, the new edition of this bestselling text synthesizes theoretical depth and practical skills-building, developing critical understanding and good management practice. A holistic approach to the issues facing small businesses from start-up to growth and maturity.
This bestselling text provides students with a comprehensive introduction to entrepreneurship. Thoroughly updated with new case studies and video features, the new edition combines an international outlook and theoretical depth with good management practice, providing a complete guide to the life-cycle of a business from start-up to maturity.
Klappentext:
The new edition of this market-leading textbook provides a holistic introduction to the academic study of entrepreneurship and offers practical guidance for prospective entrepreneurs. Adopting a life-cycle view of a business from start-up to maturity, it explores the many stages and forms of entrepreneurship. With an international outlook and expert synthesis of both theoretical foundations and lessons from real-life business practice, the book offers a complete course guide, fostering entrepreneurial talent, thinking and skills. The author's engaging style and unrivalled expertise drawn from a long-ranging career (as an academic, accountant and entrepreneur) make the book accessible and authoritative.
This is an ideal textbook for those studying Entrepreneurship or Small Business on undergraduate Business or Management degree courses, as well as on MBA programmes. It will also appeal to those looking to launch their own businesses.

Inhaltsverzeichnis:
PART I: ENTREPRENEURSHIP .- 1. Entrepreneurship: The Social and Business Revolution.- 2. The Economics of Entrepreneurship and Public Policy.- 3. The Entrepreneurial Character.- 4. Discovering a Business Idea.- 5. Researching and Evaluating the Business Idea.- PART II: START-UP.- 6. Start-up: Developing Your Business Model.- 7. Adding Values to the Business Model.- 8. Launching the Business.- 9. Legal Foundations.- 10. Operations and Risk.- 11. Financial Management.- PART III: GROWTH.- 12. Growth: Building the Foundations.- 13. Strategies for Growth.- 14. Financing the Business.- 15. From Business Model to Business Plan.- PART IV: MATURITY.- 16. Maturity: Success and Failure.- 17. Family Business.- 18. From Entrepreneur to Entrepreneurial Leader.- 19. Corporate Entrepreneurship.

Alle Artikel in der Kategorie
Themen
Verwandte Themen