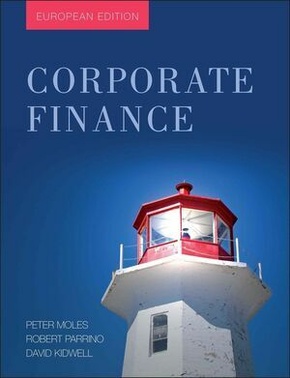 Sie sparen 11%
Preis inkl. Mwst. versandkostenfrei
innerhalb von 24 Stunden vorrätig
In den Warenkorb
47068370EA
Corporate Finance
European Edition
Kartoniert/Broschiert
Wiley & Sons
, 2011, 912 Seiten, Format: 24,6 cm, Artikeltyp: Englisches Buch, ISBN-10: 0470683708, EAN: 9780470683705
Bestell-Nr: 47068370EA
---
---
Produktbeschreibung
Fundamentals of Corporate Finance helps students develop the intuition and analytical skills necessary to effectively apply financial tools in real-world decision-making situations.

The authors provide a fully integrated framework for understanding how value creation relates to all aspects of corporate finance; whether it be evaluating an investment opportunity, determining the appropriate financing for a business, or managing working capital. This unique and integrated framework also provides robust coverage of problem solving and decision-making skills.
Inhaltsverzeichnis:
About the authors.
Preface.

Organisation and coverage.

Proven Pedagogical Framework.

Instructor and student Resources.

Acknowledgements.

Part One. Introduction.

Chapter 1. The Financial Manager and The Firm.

Part Two. Foundations.

Chapter 2. The Financial Environment and the Level of Interest Rates.

Chapter 3. Financial Statements, Cash Flows and Taxes.

Chapter 4. Analysing Financial Statements.

Part Three. Valuation of Future Cash Flows and Risk.

Chapter 5. The Time Value of Money.

Chapter 6. Discounted Cash Flows and Valuation.

Chapter 7. Risk and Return.

Chapter 8. Bond Valuation and the Structure of Interest Rates.

Chapter 9. Share Valuation.

Part Four. Capital Budgeting Decisions.

Chapter 10. The Fundamentals of Capital Budgeting.

Chapter 11. Cash Flows and Capital Budgeting.

Chapter 12. Evaluating Project Economics and Capital Rationing.

Chapter 13. The Cost of Capital.

Part Five. Working Capital Management and Financial Decisions.

Chapter 14. WorkingCapital Management.

Chapter 15. How Firms Raise Capital.

Chapter 16. Capital Structure Policy.

Chapter 17. Dividends and Dividend Policy.

Part Six. Business Formation, Valuation and Financial Planning.

Chapter 18. Business Formation. Growth and Valuation.

Chapter 19. Financial Planning and Forecasting.

Part Seven. Corporate Risk Management and International Decision.

Chapter 20. Corporate Risk Management.

Chapter 21. International Financial Management.

Appendix A.

Appendix B.

Glossary.

Subject Index.

Company Index.

Alle Artikel in der Kategorie
Themen
Verwandte Themen