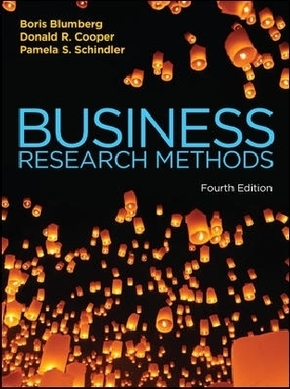 Preis inkl. Mwst. versandkostenfrei
innerhalb von 24 Stunden vorrätig
In den Warenkorb
07715748EA
Business Research Methods
Kartoniert/Broschiert
Bestell-Nr: 07715748EA
---
---
Produktbeschreibung
Are you about to begin your dissertation or a research project, but don't know what topic to choose? Are you unsure of what research methods to use and how they should be applied to your project? Are you worried about how to write up your research project? Then this is the book for you!

A balanced coverage of qualitative and quantitative methods means that no matter what approach you choose to use for your project, there are examples and case studies to help guide you through the process.

Student Research boxes provide an insight into situations and research decisions that students have encountered in real life projects. They contain hints, tips and sometimes questions to help you think through your own project.

A Running Case Study charts the progression of two student research projects - one qualitative and one quantitative - and shows how the content of each chapter can be used to develop their projects. Thought provoking questions are included in order to help you considerthe issues and decisions involved, which you can then apply to your own project.

Deeper Insight boxes delve further into particular research issues, offering you a detailed description to increase your understanding of these areas, whilst Real Life examples put research methods into context, by showing you how they have been applied in real world situations.

The Online Learning Centre contains a vast amount of extra resources to help you create a superior project:

Six statistical chapters are available to help you prepare, test and analyse your hypotheses and data.
Extra cases, appendices and dataset exercises help you to take your study further.
Check out the Research Skills Centre for free chapters of Study Skills books, examples of good and bad proposals, and templates for questionnaires and surveys.

All of this and more can be found at www.mcgraw-hill.co.uk/textbooks/blumberg

Inhaltsverzeichnis:
Part 1: Essentials of Research

1. The Nature of Business and Management Research

2. The Research Process and Proposal

3. Literature Review

4. Ethics in Business Research

Part 2: Research Methods

5. Quantitative and Qualitative Research

6. Sampling Strategies

7. Primary Data Collection with Surveys

8. Primary Data Collection: Qualitative Data

9. Secondary Data and Archival Sources

10. Content Analysis and Other Qualitative Approaches

11. Case Studies

12. Experimentation

Part 3: Research Instruments

13. Fieldwork: Questionnaires and Responses

14. Measurement and Scales

15. Writing and Presenting Research Outcomes

Part 4: Statistical Background (ONLINE)

16. Data Preparation and Description

17. Exploring, Displaying and Examining Data

18. Hypothesis Testing

19. Measures of Association

20. Multivariate Analysis: An Overview

21. Qualitative Data Analysis: An Overview

Appendices

Cases

Autorenbeschreibung
Dr. Boris Blumberg promovierte als Research Fellow beim "Interuniversity Center für Social Science Theory and Methodology (ICS)" an der Universität Utrecht/Niederlande. Er ist seit 1997 Assistant Professor an der Universität Maastricht und Senior Researcher am dortigen "Business Investment Research Center" (BIRC).
Alle Artikel in der Kategorie
Themen
Verwandte Themen