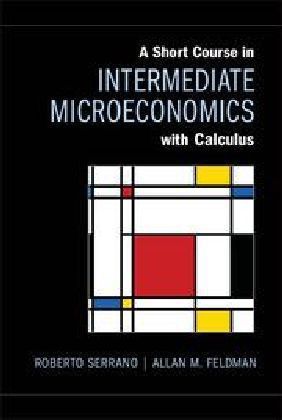 Sie sparen 7%
Preis inkl. Mwst. versandkostenfrei
nicht lieferbar
A Short Course in Intermediate Microeconomics with Calculus
Kartoniert/Broschiert
Cambridge University Press
, 2016, 456 Seiten, Format: 25,3 cm, Artikeltyp: Englisches Buch, ISBN-10: 1107623766, EAN: 9781107623767
Bestell-Nr: 10762376UA
---
Sie möchten informiert werden, wenn dieser Artikel wieder lieferbar ist?
Dann nutzen Sie unseren Info-Service per E-Mail oder RSS-Feed. Sobald dieser oder ein Artikel in der selben Kategorie wieder lieferbar ist, erhalten Sie eine Nachricht.
---
---
Produktbeschreibung
This book provides a concise treatment of the core concepts of microeconomic theory at the intermediate level with calculus integrated into the text. The authors, Roberto Serrano and Allan M. Feldman, start with consumer theory and then discuss preferences and utility, budget constraints, the consumer's optimal choice, demand and the consumer's choices about labor and savings. They next turn to welfare economics: when is one policy better for society than another? Following are chapters presenting the theory of the firm and profit maximization in several alternative and partial equilibrium models of competitive markets, monopoly markets and duopoly markets. The authors then provide general equilibrium models of exchange and production and analyze market failures created by externalities, public goods and asymmetric information. Finally, they offer introductory treatments of decision theory under uncertainty and game theory. Graphic analysis is presented where necessary but distractions are avoided. This is a textbook for intermediate level courses in microeconomics that uses calculus throughout. Other textbooks either use no calculus or relegates the math to footnotes and appendices. The text also focuses on theory rather than empirical data and references to real events and firms, with no distracting separate boxes.
Inhaltsverzeichnis:
Preface; 1. Introduction; 2. Preferences and utility; 3. The budget constraint and the consumer's optimal choice; 4. Demand functions; 5. Supply functions for labor and savings; 6. Welfare economics i: the one-person case; 7. Welfare economics ii: the many-person case; 8. Theory of the firm i: the single-input model; 9. Theory of the firm ii: the long run, multiple-input, single-output model; 10. Theory of the firm iii: the short run, multiple-input, single-output model; 11. Perfectly competitive markets; 12. Monopoly and monopolistic competition; 13. Duopoly; 14. Game theory; 15. An exchange economy; 16. A production economy; 17. Externalities; 18. Public goods; 19. Uncertainty and expected utility; 20. Uncertainty and asymmetric information.
Alle Artikel in der Kategorie
Themen