Microeconomics and Behaviour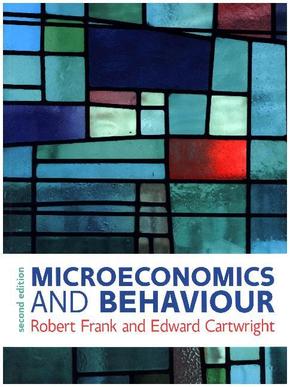 Preis inkl. Mwst. versandkostenfrei
innerhalb von 24 Stunden vorrätig
In den Warenkorb
07717408EA
Kartoniert/Broschiert
McGraw-Hill Higher Education
, 2016, 602 Seiten, Format: 19,6x26,2x2,1 cm, ISBN-10: 0077174089, ISBN-13: 9780077174088, Bestell-Nr: 07717408EA
---
---
Produktbeschreibung
Exploring the relationship between human behaviour and economic analysis, Microeconomics and Behaviour 2nd Edition establishes the fundamentals of intermediate microeconomics in a clear and narrative style and develops economic intuition about the world around us. The text continually encourages the reader to think like an economist through the development of core analytical tools and Economic Naturalist examples.
Distinctive Features
Economic Naturalist examples: Updated for the new edition, the text uses Economic Naturalist examples to show how economic principles can be used to explain experiences and observations of everyday life. Throughout the text, these examples demonstrate the relevance of economics by enabling the reader to apply economic concepts to everyday situations and also instil an inclination to do so. - Why do people not haggle in supermarkets? - Why does it pay to be careful with special offers?
Business examples: Making content even more relevant for business students, Microeconomics and Behaviour 2nd Edition contains numerous examples that relate to business issues, tackling such questions as: - Why is it good that Uber increases prices in crisis situations? - Why did mobile phone companies pay too much (or too little) for a 3G licence?
Inhaltsverzeichnis:
PART 1: Introduction 1. Thinking Like an Economist 2. Supply and Demand 3. Game Theory PART 2: The Theory of Consumer Behaviour 4. Rational Consumer Choice 5. Individual and Market Demand 6. Applications of Rational Choice and Demand Theories 7. Choice under Uncertainty and the Economics of Information 8. Explaining Tastes: The Importance of Altruism and Other Non-Egoistic Behaviour 9. Cognitive Limitations and Consumer Behaviour PART 3: The Theory of the Firm and Market Structure 10. Production 11. Costs 12. Perfect Competition 13. Monopoly 14. Imperfect Competition PART 4: Factor Markets 15. Labour 16. Capital PART 5: Externalities, Public Goods and Welfare 17. General Equilibrium and Market Efficiency 18. Externalities, Property Rights and the Coase Theorem 19. Government
Autorenbeschreibung
Edward J. Cartwright is a Reader in Economics at the University of Kent. He received a B.A. in mathematics and economics at the University of Durham, and an M.Sc. and Ph.D. in economics from the University of Warwick. After spending one year as a postdoctoral student at Université Paris 1, he began his teaching career at the University of Kent. His research has focused on cooperation and coordination in economic and social behaviour. He is the author of an advanced level textbook, Behavioral Economics.
Robert H. Frank is the Henrietta Johnson Louis Professor of Management, a Professor of Economics at Cornell's Johnson Graduate School of Management and a Distinguished Senior Fellow at Demos. For more than a decade, his "Economic View" column appeared monthly in The New York Times. He received his B.S. in mathematics from Georgia Tech, then taught math and science for two years as a Peace Corps Volunteer in rural Nepal. He holds an M.A. in statistics and a Ph.D. in economics, both from the University of California at Berkeley. His papers have appeared in the American Economic Review, Econometrica, Journal of Political Economy, and other leading professional journals.
Alle Artikel in der Kategorie
Themen
Verwandte Themen