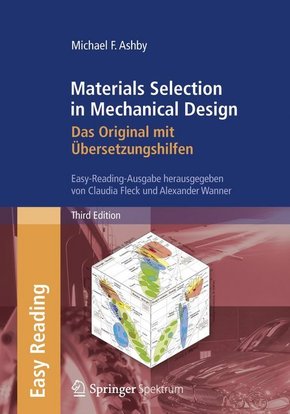 Sie sparen 54%
Preis inkl. Mwst. versandkostenfrei
innerhalb von 24 Stunden vorrätig
In den Warenkorb
82741762A
Materials Selection in Mechanical Design
Das Original mit Übersetzungshilfen. Easy-Reading-Ausgabe zur 3. Edition. Unique material selection charts available to download online
Kartoniert/Broschiert
Springer Spektrum
, Easy Reading, 2007, 648 Seiten, Format: 24 cm, ISBN-10: 3827417627, ISBN-13: 9783827417626
Bestell-Nr: 82741762A
Für diesen Artikel bieten wir eine Vorschau an
---
---
Produktbeschreibung
Elsevier - Spektrum Akademischer Verlag präsentiert hier das englischsprachige weltweit anerkannte Standardwerk zur Werkstoffauswahl, das als neuer Buchtyp speziell an die Bedürfnisse deutschsprachiger Leser angepasst wurde.
Von Ingenieurinnen und Ingenieuren wird heute im Studium und Beruf erwartet, dass sie englische Literatur lesen und verstehen und in ihrem Fachgebiet auch auf Englisch kommunizieren können. Ein wesentlicher Zusatznutzen dieses Buches ist es, das Lesen und Lernen im englischen Original zu erleichtern und gleichzeitig in die spezielle Fachterminologie einzuführen: Es bietet Ihnen neben dem englischen Originaltext Übersetzungshilfen in der Randspalte zur Fachterminologie und zu schwierigen normalsprachlichen Ausdrücken, ein zweisprachiges Fachwörterbuch zum raschen Nachschlagen und in Verbindung mit dem Index zum Auffinden von Textstellen ausgehend vom deutschen Stichwort und ein um deutschsprachige Referenzen ergänztes Literaturverzeichnis.

Inhaltsverzeichnis:
1 Introduction
1.1 Introduction and synopsis
1.2 Materials in design
1.3 The evolution of engineering materials
1.4 Case study: the evolution of materials in vacuum cleaners
1.5 Summary and conclusions
1.6 Further reading

2 The design process
2.1 Introduction and synopsis
2.2 The design process
2.3 Types of design
2.4 Design tools and materials data
2.5 Function, material, shape, and process
2.6 Case study: devices to open corked bottles
2.7 Summary and conclusions2.8 Further reading

3 Engineering materials and their properties
3.1 Introduction and synopsis
3.2 The families of engineering materials
3.3 The definitions of material properties
3.4 Summary and conclusions
3.5 Further reading

4 Material property charts
4.1 Introduction and synopsis
4.2 Exploring material properties
4.3 The material property charts
4.4 Summary and conclusions
4.5 Further reading

5 Materials selectionthe basics
5.1 Introduction and synopsis
5.2 The selection strategy
5.3 Attribute limits and material indices
5.4 The selection procedure
5.5 Computer-aided selection
5.6 The structural index
5.7 Summary and conclusions
5.8 Further reading

6 Materials selectioncase studies
6.1 Introduction and synopsis
6.2 Materials for oars
6.3 Mirrors for large telescopes
6.4 Materials for table legs
6.5 Cost: structural material for buildings
6.6 Materials for flywheels
6.7 Materials for springs
6.8 Elastic hinges and couplings
6.9 Materials for seals
6.10 Deflection-limited design with brittle polymers
6.11 Safe pressure vessels
6.12 Stiff, high damping materials for shaker tables
6.13 Insulation for short-term isothermal containers
6.14 Energy-efficient kiln walls
6.15 Materials for passive solar heating
6.16 Materials to minimize thermal distortion in precision devices
6.17 Nylon bearings for ships rudders
6.18 Materials for heat exchangers
6.19 Materials for radomes
6.20 Summary and conclusions
6.21 Further reading

7 Processes and process selection
7.1 Introduction and synopsis
7.2 Classifying processes
7.3 The processes: shaping, joining, and finishing
7.4 Systematic process selection
7.5 Ranking: process cost
7.6 Computer-aided process selection
7.7 Supporting information
7.8 Summary and conclusions
7.9 Further reading

8 Process selection case studies
8.1 Introduction and synopsis
8.2 Forming a fan
8.3 Fabricating a pressure vessel
8.4 An optical table
8.5 Economical casting
8.6 Computer-based selection: a manifold jacket
8.7 Computer-based selection: a spark-plug insulator
8.8 Summary and conclusions

9 Multiple constraints and objectives
9.1 Introduction and synopsi
9.2 Selection with multiple constraints
9.3 Conflicting objectives, penalty-functions, and exchange constants
9.4 Summary and conclusion
9.5 Further reading
Appendix: Traditional methods of dealing with multiple constraints
and objectives

10 Case studiesmultiple constraints and conflicting objectives
10.1 Introduction and synopsis
10.2 Multiple constraints: con-rods for high-performance engines
10.3 Multiple constraints: windings for high-field magnets
10.4 Conflicting objectives: casings for a mini-disk player
10.5 Conflicting objectives: materials for a disk-brake calipes
10.6 Summary and conclusions

11 Selection of material and shape
11.1 Introduction and synopsis
11.2 Shape factors
11.3 Microscopic or micro-structural shape factors
11.4 Limits to shape efficiency
11.5 Exploring and comparing structural sections
11.6 Material indices that include shape
11.7 Co-selecting material and shape
11.8 Summary and conclusions
11.9 Further reading

12 Selection of material and shape: case studies
12.1 Introduction and synopsis
12.2 Spars for man-powered planes
12.3 Ultra-efficient springs
12.4 Forks for a racing bicycle
12.5 Floor joists: wood, bamboo or steel?
12.6 Increasing the stiffness of steel sheet
12.7 Table legs again: thin or light?
12.8 Shapes that flex: lea
Klappentext:
Key Features include:
- Fully revised throughout, with new material on topics including process selection, material and shape selection, design of hybrid materials, environmental factors and industrial design
- Reader-friendly approach and attractive, easy to use two-colour presentation
- Improved tutor resources with supporting online materials and Instructor's Manual
- Unique material selection charts available to download online
- The methods developed in the book are implemented in Granta Design's widely used CES Educational software
Revised and expanded for this edition, Materials Selection in Mechanical Design is recognised as a key text for materials properties courses internationally, and provides a unique and genuinely innovative resource for students and practicing engineers.
Alle Artikel in der Kategorie
Themen
Verwandte Themen