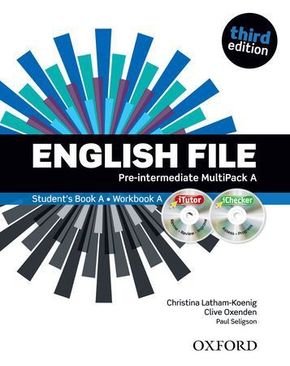 Preis inkl. Mwst. versandkostenfrei
innerhalb von 24 Stunden vorrätig
In den Warenkorb
19459868EA
English File, Pre-Intermediate, Third Edition: Multipack A, Student's Book A and Workbook A, with iTutor DVD-ROM and iChecker CD-ROM
The best way to get your students talking
Kartoniert/Broschiert
Bestell-Nr: 19459868EA
---
---
Produktbeschreibung
Each File presents and practises grammar, vocabulary and pronunciation with a balance of reading and listening activities and lots of opportunities for speaking Clear, colour-coded referencing to additional resources at the back of the Student's Book - such as Grammar Bank, Vocabulary Bank and Sound Bank - offer additional support A wide variety of authentic texts and dialogues provides fresh angles on topics which motivate students Practical English lessons teach
useful high-frequency, everyday English and social English Revise & Check pages with 'Can you?' challenges helps students consolidate and measure their progress Real-world In-The-Street interviews, Practical English motivating drama and documentary videos motivate and engage students with English
language and culture Clear signposts to iTutor throughout the Student's Book encourage self-study The iTutor DVD-ROM contains all the Student's Book audio, video, grammar and vocabulary exercises in one place making it easy forstudents to catch-up, revise and study at home iChecker includes all Workbook audio, self-assessment tests, instant answers and Study Link references allowing students to test their knowledge and assess their progress
Klappentext:
The English File MultiPACK A contains Units 1 - 6 of the Student's Book and the Workbook with key, iTutor and iChecker delivering a complete English File package, supporting study both inside and outside of the classroom.

The course follows a four-skills syllabus with a clear focus on pronunciation, plus Grammar Bank exercises for practice and activation of grammar. 'Real-world' In-The-Street interviews, Practical English motivating drama and documentary videos motivate and engage students with English language and culture.

Sample materials available from the English File website .
Alle Artikel in der Kategorie
Themen
Verwandte Themen